5 Reasons to Go Visit an Orthodontist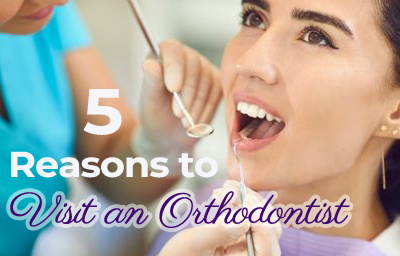 You are often suggested to go to the dental office two times in a year for the checkup of your teeth. However, the majority don't care about our dental health and ignore the same. A dentist near you will check if there is any damage in your teeth; will clean your teeth, and explain to you if there are any other conditions in your oral health that require further treatment. An orthodontist specializes in fixing the position of a tooth, for both aesthetic and functional causes. Orthodontist fixes your jaw and bite irregularities too. In our previous blog, we have explained the difference between family dentists and orthodontists in Pasadena. Read on to discover five reasons to consult an orthodontist immediately.
5 Reasons to Visit an Orthodontist in Pasadena:
Correct Gaps Between Teeth or Crowding:

The majority of us don't feel it, but our teeth keep moving even after we become an adult. Some adults above thirty five years have gaps or changes in the spaces between the lower canines. This is not uncommon. You may face difficulty in flossing and brushing your teeth. However, an early checkup with an orthodontist is recommended to prevent this teeth issue.

Rectify Jaw Deformities:

This commonly happens when your jaw has developed too much and this creates facial malocclusion and asymmetry. The treatment varies on the seriousness of the patient's condition such as braces or Invisalign in Pasadena. However, an orthodontist is prefered as a combination of surgery and braces to rectify the issue.

Sudden Shift in Your Teeth's Position:

There can be various causes which trigger sudden change in your teeth's position. But gum disease or periodontitis is the most common reason. This is not normal at all. An appointment with an orthodontist is recommended if you notice any sudden change in your teeth's position.

Preventive Orthodontics:

This part involves the treatment with parafunctional patterns which includes tongue thrusting and thumb sucking. Preventive orthodontics also involves the grinding of teeth. If you have such problems, it can cause issues to your oral health. If you particularly have had this habit for a long time, consulting an orthodontist in Pasadena is a necessity. Visiting an orthodontist can be beneficial for you as the expert will enable you to control this habit.

Sleeping Issue:

If you face any interruption in your breathing while you sleep, this can indicate a serious clinical issue. It should be treated immediately. Several factors can lead to sleep apnea. But sometimes it can be related to your teeth and jaw alignment as well. Visiting your orthodontist can prevent this issue.
Conclusion:
If you are facing any of the above-mentioned issues, you can contact Dr. Sean Sunyoto of Cal Dental Group of Pasadena right away. Cal Dental Group of Pasadena is the finest and the most reputed dental office near you in Pasadena. The guidance provided by Dr. Sean Sunyoto and the skilled teams he leads, will help you overcome your dental issues. Browse through our website of Cal Dental Group of Pasadena to gather more information right away. Call us at (626) 584-1800 to have an appointment right away with Dr. Sean Sunyoto at Cal Dental Group of Pasadena.
---